Industry
Pennsylvania Gastroenterology Consultants (PA GI) board-certified gastroenterologists are trained in the diagnosis and treatment of digestive disorders and treat patients throughout Central Pennsylvania. Their healthcare practice and state-of-the-art procedure facility are located in Camp Hill, PA.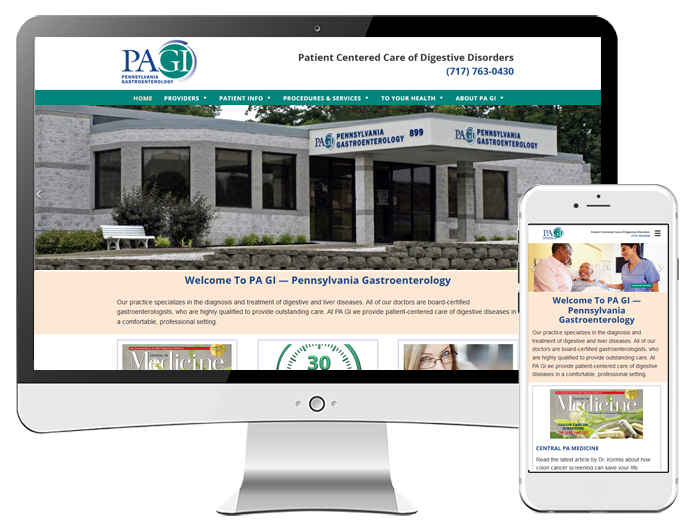 Marketing Challenge
Hospital health systems absorbing private practices, changes in healthcare law and complex insurance reimbursement requirements are some of the major changes having a marked impact on private medical practices. PA GI needed a cohesive brand and marketing approach to reach consumers directly and influence referring medical professionals.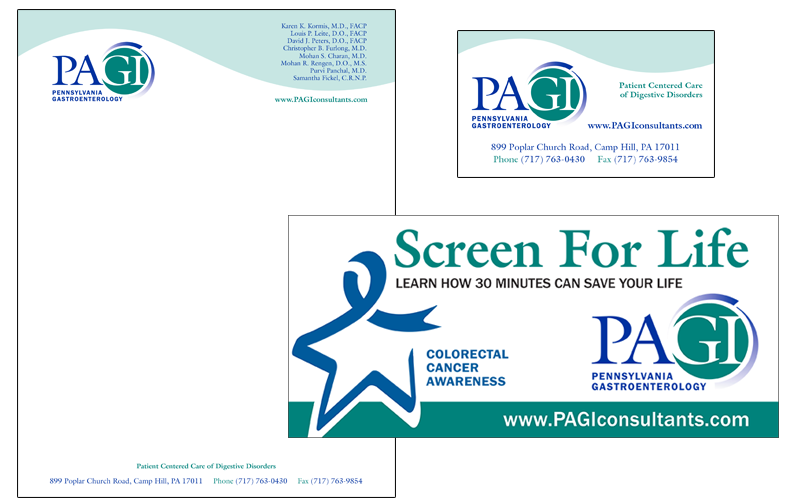 Marketing Strategy
ESTABLISHING THE BRAND
After conducting consumer research and a comprehensive brand audit, AdAbility Marketing Communications, recommended that the practice transition to an abbreviated name that reflected common usage of "PA GI." The next phase of developing the brand identity and marketing strategy, was designing a new logo, tag line and stationery to unify PA GI's marketing message.
COLLATERAL MATERIALS
Direct mail to primary care doctors and internists, which included patient education materials, helped to launch PA GI's new brand identity. The mailings promoted PA GI as the experts in gastroenterology and encouraged patient referrals. PA GI's patient education efforts were expanded with an ongoing series of "To Your Health" patient information handouts that were also made available on the practice's website and distributed to primary care providers.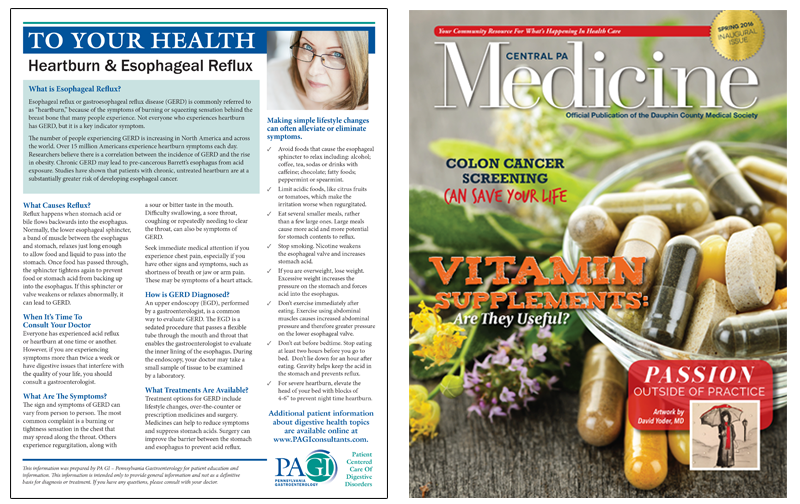 PUBLIC RELATIONS OUTREACH
During March, National Colon Cancer Awareness Month, AdAbility developed a public service campaign to help spread the word about the importance of early screening and detection. PA GI doctors felt it was important to take the lead on getting out such an important message. During the month long campaign, outdoor advertising, radio, social media and public service announcements, along with public relations outreach helped to spread the message about preventing colon cancer. Articles written by the doctors appeared in local publications and call-in radio show appearances helped to increase awareness.
RESPONSIVE WEBSITE DESIGN
Taking into consideration the shift in internet usage from mainly desktop to mobile, AdAbility recommended a website redesign. The new, responsive website helped showcase PA GI's expertise in the field of gastroenterology and was easily viewable on desktop, mobile or tablet devices. The new website included patient appointment and referral forms as well as a patient portal login section. Regular content updates are added to the website focusing on different healthcare topics.