Let Testimonials Do The Talking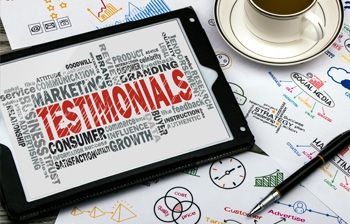 Customer testimonials are often overlooked in the marketing world. But there are times that nothing says it better than earnest words of praise. Here are some tips for using testimonials wisely.
Gathering Testimonials
It's hard to fish for compliments. But don't despair… there are painless ways of gathering positive feedback with your modesty intact.
The first step is to crate a Testimonial File that's easily accessible to store and sort printed praise. Then, save thank you notes from clients for a job well done. Remember to write down verbal compliments (and be sure to get contact information so you can get reprint permission later).
Periodically, call customers to gauge their satisfaction or send out customer surveys. The feedback is invaluable, plus you'll keep in touch with your customer bases.
Use Discretion. Some testimonials are more effective than others. A poorly worded or quirky testimonial – albeit sincere – can have a negative effect.
Stay Current. Testimonials can get stale. Use those that reflect current products or services. Also, review your testimonial file now and then to keep the stock fresh.
Target Testimonials. Consider targeting your testimonials to reach specific markets. People respond to testimonials from industry or consumer peers.
Use the Internet. Include a feedback mechanism on your company's web site to collect compliments, positive comments and even ideas for improvement.
Get Permission. Secure permission from the customer you are quoting, especially if you plan to attach their personal or company name to your product in your marketing materials.
What Makes A Good Customer Testimonial?
It's Specific - Testimonials phrased in precise terms pull more weight than more general statements.
It Showcases Impressive Information - The more complete the attribution the more believable the testimonial.
It Uses Original Wording - Resist any temptation to polish your customers' words. You'll generally lower the believability factor.