5 Rules For Handling Negative Social Media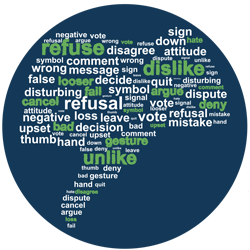 We can all agree that social media has changed the way businesses market and it has certainly changed the way that customers interact with companies. Businesses are discovering that instead of expressing their displeasure face-to-face, many customers are venting their complaints about a product, service or experience on social media. The fear of negative comments being shared publicly, is the a major reason that many companies refuse to become involved in social media, regardless of the benefits it can bring.
Wanting to keep negativity out of the public eye is understandable, but that is not a realistic expectation in today's world of the Internet. A business doesn't even have to have social media accounts to get bashed online. By joining social media, companies can exercise more control over the conversation and manage negativity.
Tips for Handling Social Media Negativity
1. Do NOT Delete or Ignore Negative Comments
While it is understandable that no one wants negative comments associated with their business, it can do far more damage to delete them rather than respond to them. Deleting a negative comment may further aggravate the customer and has the potential to make the situation worse. Trying to white wash or dismiss customer's feedback will erode customer's trust. The only time it is acceptable to remove a negative comment is if they are degrading, racist or in any other way inappropriate.

2. Respond to ALL Negative Comments
Make sure that your staff responds to ALL negative comments. Many people take to social media with complaints because they want to be heard. By immediately responding, you are showing the customer you care and want to make things right. This is important for the rest of your page followers to see as well.

3. Don't Delay In Acknowledging The Comment
Today's technology has programmed the consumers to expect an immediate response, regardless of when they have contacted you. That's why it's essential for a business to reply to negative comments on social media as quickly as possible. Also, by responding quickly, you are helping to keep the negativity from getting out of control. The longer it takes for you to respond, the more time the customer has to build on their anger and continue spreading the word to their friends.

4. Make Sure You Respond Publicly
Make sure your first response to a negative comment is a public one. In the initial message ask the customer to provide you with further details including their contact information, so that you can work out the resolution offline. Once the issue has been resolved, make sure you publicly post a comment thanking them for informing you of the issue and saying you hope everything has been resolved to their satisfaction.

5. Remain Professional And Calm
While you need to respond quickly and publicly, keep cool with your response. Other social media followers will be judging how you handle the situation, so make sure you are not responding in anger. If you need time to cool off, first provide a simple response. "Thank you for informing us about the situation. We are looking into it. Would you please send us your contact information so we can respond."