How To Create The Worst Ad Possible
Tobacco Companies Roll Out Court Ordered Ads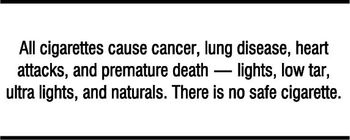 If you've watched TV or read the newspaper lately, there's a chance you may have seen an ad warning you of the dangers of smoking. There's probably a better chance that the ad slipped by without catching your attention. Oddly enough, it was undoubtedly the intent of the ad creators, who ignored all of advertising's best practices on purpose, so that you would ignore it.
These ads, which were more than a decade in the making, are a result of a lawsuit by the Department of Justice in 1999 against tobacco companies. The suit contended that tobacco companies had actively deceived the public about the dangers of their product for decades. As part of the 2006 ruling against the tobacco companies, they were ordered to disseminate "corrective statements" about the health risks and addictive nature of smoking. Legal wrangling and multiple appeals dragged out the implementation of ads until November of 2017.
Tobacco companies were ordered to run these informative ads on major networks during prime-time TV and as full-page ads in national newspapers for a year. The 18-year legal battle has worked in the tobacco companies' favor. The intent of the advertising was to warn younger people of the dangers of smoking before they developed an addictive habit. But the media habits of young people have changed. They no longer watch major networks or read printed newspapers. The landscape for media consumption has shifted to mostly online.
Even though there are fewer potential viewers, tobacco companies made sure to create the most bland ads, so that they would be noticed by as few consumers as possible. Prior to this tobacco ads were known for their catchy headlines and eye-grabbing design. Now the companies were intent on breaking all the rules of advertising and fought hard to make the ads as invisible as possible. The result was "tombstone" advertising with a plain white background and tightly-spaced black text. A monotone, automaton-like voice over is used for the TV commercials.
The campaign includes five different ads with corrective statements divided by category, such as the manipulation of cigarette design, the addictiveness of nicotine, adverse health effects of exposure to secondhand smoke and that smoking can result in death. Each ad starts with a statement from Altria, R.J. Reynolds Tobacco, Lorillard and Philip Morris USA stating they have a federal court order to inform consumers of the health effects of smoking.
Unfortunately, due to the ad design and off target media placement most young consumers will never see the ads. While most saw the lawsuit decision as a win for consumers, the tobacco companies knew how to comply with the letter of the law without losing the battle.